Working interface:
What's happening here?
Vertex423
made an animation using Scratch!
Oliver says:
'Cool! but I want to make my avatar.'
Val says:
This is an example of a
walk cycle
. It was made by using 24 different costumes for the monster; 12 costumes for the stick figure; 4 costumes for the Pikachu character.
How was this made?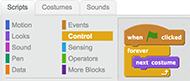 Pass the pseudocode, please
Describe how you'd make this here.
Ask me something directly command-line interface (like console or git)
Current Notes and open-Questions for Collaborators:

Ian - I would be tempted to put all of the following in the 'exposition' element and just make most of the textContent display:none, but I'm guessing that's not the way UX would present the info. Thoughts?

What's happening here?

Vertex423

made an animation using Scratch!

Oliver says:

____________________

Val says:

This is an example of a walk cycle. It was made by using 24 different costumes for the monster; 12 costumes for the stick figure; 4 costumes for the Pikachu character.

Wikipedia says:

In animation, a walk cycle is a series of frames or illustrations drawn in sequence that loop to create an animation of a walking character.

How was this made?

The Composer

probably traced some keyframes from videos he found online.

Scratch

There's a green flag on the screen that waits to be pushed.
Then inside of a forever function,

the browser first waits for 0.05 seconds,
then replaces the sprite's costume with its next costume in that sprite's list of Costumes;
then it does the same thing again - it waits for 0.05 seconds, then changes the sprite's costume to the next costume.
And again...forever...(theoretically)

Pass the pseudocode, please

Find the DOM element that has a green flag (it's probably an <img> or <svg> tag
Create a javascript representation of that element. Here, let's name it 'greenFlag'
Add an event listener onto that element named 'greenFlag' that listens for the InterActor to click on the mouse. When the InterActor clicks on the mouse, a function will run.
This function is an infinite loop (WARNING: don't write infinite loops in your own programs that have to run in the browser because the browser will either crash or just stop your program.)
Create a method that calls a second function after 0.05 seconds
This second function looks at a list of images (costumes) for
There is already an image for